Top 10 Most Prominent Business Leaders in 2021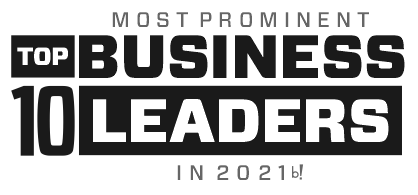 Making a Difference with a Strong Prominence in the Business World
The business world has a plethora of success stories that have been written by the hard work, passion and dedication of prominent business personalities. These stories form the foundation for new successes. Leaders have always played a vital role in inspiring the generation. Their insights, viewpoint and perspective have been emulated by many great leaders who are successful today.
Well, as hard as it may sound, there are a few amazing leaders who have taken on this responsibility and lived up to it in a phenomenal way. Leaders have influenced the generation with innovation, creativity and most importantly, confidence to be over-achievers.

Beyond Exclamation recognizes the spirit of these amazing leaders and has dedicated this issue titled, "Top 10 Most Prominent Business Leaders in 2021", to appreciate their prominence presence in the industry. Featuring on the cover of this issue is the journey of Jennifer Mancuso, Founder and Lawyer of J.A.M. Law Professional Corporation. Prior to opening her own law firm, Jennifer practiced for years in the area of insurance defence, focusing on motor vehicle and personal injury claims. As a former defence lawyer, Jennifer understands the ins and outs of the insurance companies to better deal with different cases. Jennifer has outshone her potential in her role at J.A.M. law, taking the company to exponential heights. Her spirit and passion to write her own journey speaks volumes of her strong personality as a prominent and leading businesswoman today.

We have also put together a few more stories of many more successful leaders of different industry portraying their prominence and remarkable contribution. Inclusive are the journeys of May Yap, Director of LHT Holdings Ltd; Anne Krog Iversen, Chief DNA & Culture Officer of TimeXtender; Derek Anthony, Vice President – Brokerage of Woodmont; Greg Coleman, CEO of Future Energy; Nino Dubretic, Founder & CEO of Direct Booker; Serge Wandji, CEO of DiaspoCare; Yann Skaalen, CEO of Digtective; Eric Hays, CEO of Hays Electrical Services Inc and Ian Hunter, CEO of HuntRevenue.

Let's get inspired!
Follow us on social media.