Florencia Masri: Optimizing the Development of the Real Estate Industry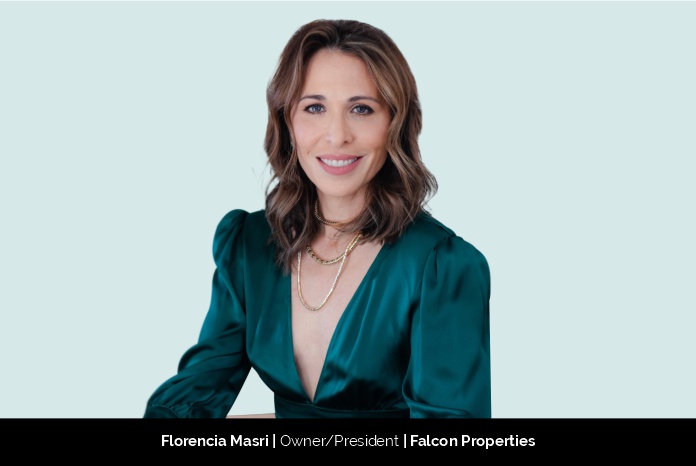 While growing up, Florencia Masri had dreams of performing on stage for a living. Her passions and hobbies included singing and dancing. However, as an only child of an entrepreneur, she was expected to be a businesswoman and go into real estate, which is what she did. Although Florencia is not currently performing on stage herself, three years ago she founded a production company in Argentina where she is not only able to involve her children, but also live out her passion a different way. Additionally, as President of Falcon Properties, she utilizes her creativity to manage and run a successful real estate management company.
Overview of the Company
Falcon Properties was founded about forty years ago by Florencia's father, Elias Masri. Elias worked in real estate in Argentina before deciding to move to New York City to focus on real estate. When he arrived in New York, he knew he did not want to compete with the heavyweights of New York real estate, so he began buying Class B buildings in the Garment District of Manhattan. It did not take him long for him to build a decent portfolio of buildings. Falcon Properties, the management company of all the properties, is known for having small spaces that include nicely done lobbies and well-kept spaces. The company's niche is buildings with small spaces that are affordable. They aim at attracting showrooms and studios, not just offices. During the pandemic, the small spaces have been beneficial because they have found that people still needed a place to go to work once things began opening back up. Additionally, some companies downsized and were looking for a smaller space.
Falcon Properties handles everything in-house including repairs, leasing, and accounting. This has not only helped them reduce cost but has also provided their clients a personalized experience. Clients can work directly with Falcon Properties regarding any questions or concerns, and Florencia believes that this has created lasting and meaningful relationships that has allowed the company to stand out from its competitors. Falcon Properties prides itself on creating a pleasant experience when leasing and renting in New York.
A Family Run Business
Florencia was expected to follow in her father's footsteps and work in real estate. She worked alongside her father until he, unfortunately, passed away in April 2020. Before April, Florencia had begun restructuring the company. She spent approximately 1 ½ years restructuring the company in order to be more efficient in how they operate. In the middle of restructuring, the COVID-19 global pandemic hit, and soon after her father passed. Florencia says the company is still recovering from the pandemic and she is still taking care of business associated with her father including restructuring some of the deals her father had with other people by either buying them out or swapping some properties. Florencia's goal was to clean up the company and put the company in a position to have more flexibility and freedom to expand in the future.
Although the company continues to navigate through the global pandemic, Florencia is optimistic about the position the company is in. Her focus now is using her creativity to allow the company to grow and thrive. As she continues to grow Falcon Properties, she also hopes to live out her passion for the performing arts by expanding her production company all over the world.
Florencia's Leadership
Having six kids on top of running Falcon Properties and her production company in Argentina has forced Florencia to be extremely organized and disciplined. She needs to always stay on top of everything, and she manages to do this by utilizing several organizational tools and systems. Florencia's creativity has also been a benefit to helping her succeed as an entrepreneur. Florencia describes her intuition as another trait that is vital in helping her run the company. Times are uncertain and especially during the current situation, she explains how she may not have enough data, or even conflicting data, but her intuition is vital in guiding her on what to do next.
Florencia has successfully navigated the company through the 2008 Great Recession and is now navigating it through the COVID-19 global pandemic. When reflecting on the global pandemic and their future, Florencia explains how she has taken a conservative approach and she has kept their debt low which has kept them in a good position. She believes that although it will take time for things to return to how they were before the pandemic; she believes they will get out of it and things will continue to get better. The hard part is not knowing exactly how much time and not being able to control many of the things that come with the pandemic. Throughout this time Falcon Properties has been flexible with their tenants by offering massive discounts so that they could stay and continue to lease. Florencia is hopeful that the market will come back, and she believes it was the right thing to do to help tenants during this time.
Motivation and Goals
Florencia loves to create and is passionate about the creativity of any project or process. Real estate may not be the same as the performing arts, but she has found a way to make real estate creative. She enjoys putting people and projects together and watching the results play out. Additionally, Florencia loves to be able to give back to the community while working on a project she enjoys. Recently, her production company launched the musical Chorus Line in Argentina. However, Florencia is not doing it to make money. After being in strict lockdown, she wanted to provide the people of Argentina the ability to get out and enjoy the show once spaces started to open and allow a limited capacity. Additionally, she is providing jobs to the artists who have not been able to work due to the global pandemic. Although her production company is a business, she is not focused on making money at this time. Florencia enjoys it because she can do something she truly loves as well as be able to give back to people.
Juggling Everything
When Florencia leaves the office for the day, her work is not finished. Florencia's six children keep her active and often on the move. Therefore, she is frequently attending meetings in the car while picking up her children or driving between activities. Due to COVID-19, many more of Florencia's meetings take place via Zoom, so on a given day, you will most likely find her on a call dealing with legal issues, day-to-day management of buildings, accounting, etc. The pandemic has also brought up new issues with their clients, which Florencia and her team are also navigating. Florencia's children are part of her work life. However, although she is constantly connected to work, she does try to take some time off on the weekends to enjoy time with her children.
Looking Ahead
Right now, Florencia is where she desires to be, but intends to keep growing. As Florencia reflects on her career and some of her proudest accomplishments, two moments come to mind. The first accomplishment she is proud of is when she felt that Falcon Properties was structured correctly and operating efficiently. The work she put in to restructure it was important and she felt good once it was complete. Secondly, Florencia's production company presented a musical called Kinky Boots which premiered just over a year ago. On the day of the premiere, she could hardly believe that she had pulled it off. It was her biggest production she had done to date. Seeing her hard work pay off and the outcome with both her companies, are moments she will not forget. Florencia truly embraces life and looks to the future. She likes to think that there are more good times coming and more opportunities to do what she loves to do, and this is what keeps her driven and motivated each day.
Florencia plans to continue to grow and expand the company, but currently, she is not actively taking action to expand it. Right now, her focus is to take care of their tenants and continue her production company in Argentina. Florencia is using her creativity to put musicals back on stage in Argentina and to creatively navigate through the current real estate market in New York.
If Florencia could offer advice to young entrepreneurs, it would be to realize that you will need to take some risks. Find the right people and right advisors to be around and listen to them, but at the same time realize that all decisions should ultimately be made by you. Absorb knowledge from others, gather the data that you can, but in the end, use your intuition to make your decisions. She also advises others to not only focus on the money. As a business, money is important and one of the objectives, but it will be harder to make as much money if you are not passionate about what you are doing. Find your passion and follow your dreams.