Michele C. Meyer-Shipp, CEO of Dress for Success® Worldwide: Extraordinary Global Leader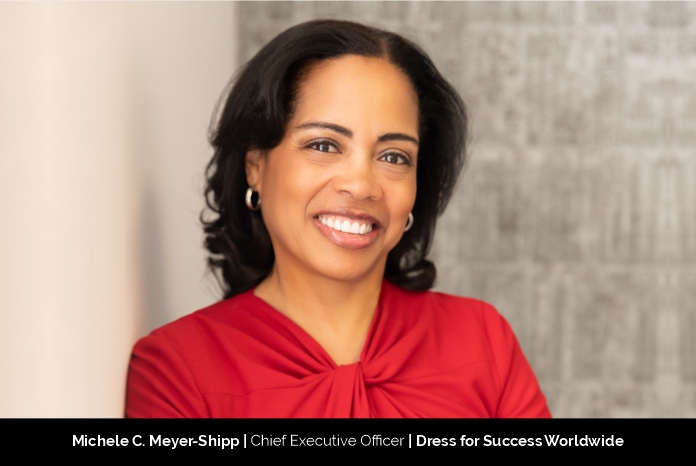 Michele C. Meyer-Shipp, Esq., is an award-winning thought leader, DEIA (diversity, equity, inclusion, and access) executive, sought-after speaker, and passionate women's equity advocate. She is recognized internationally for her expertise in activating strategic, organizational change, and leading teams through tremendous periods of transition and growth. In her current role, Michele is the CEO of Dress for Success® Worldwide, the leading global nonprofit employment resource for unemployed and underemployed women. With more than 140 affiliates across 25 countries, Dress for Success has helped over 1.3 million women in their pursuit of financial independence.
Professional Journey & Growth
Michele joined Dress for Success from Major League Baseball, where she served as Chief People & Culture Officer. While at MLB, Michele led the human resources, diversity and inclusion, and office operations for the league office. In her role, she launched new programs and policies to recruit and develop talent, advanced diversity and inclusion efforts, and enhanced workplace culture. She also served as a senior advisor to the commissioner as well as to leaders across 30 major league baseball teams and multiple minor league teams.
Prior to MLB, Michele served as Chief Diversity & Inclusion Officer at KPMG LLP, where she led initiatives relating to talent recruitment, development, and retention; supported the efforts of leaders across KPMG's 85+ national offices; and managed a portfolio of external strategic partnerships. Previously, she served as Global Chief Diversity Officer for both Prudential Financial and the law firm Akin Gump Strauss Hauer & Feld LLP.
Michele spent the first decade of her career practicing employment law in both the private and public sectors, where she advised clients on optimizing talent and implementing equitable workplace initiatives. Michele is a graduate of Rutgers University and Seton Hall University School of Law.
New Role
In 2021, at the height of the global pandemic and the racial and socioeconomic injustices that plagued our nation, many Black and female professionals were reconsidering their relationship to their work, their career trajectories, and the larger impact they wanted to have in the world. Many referred to this time as The Great Resignation. Michele, experiencing burnout and exhaustion herself, soon realized it was time for her own "Great Evaluation." She stepped away from her role at Major League Baseball to assess what was most important to her.
During this time, a life-changing opportunity presented itself. Michele had received a call about a CEO role at Dress for Success Worldwide. Like many who know of Dress for Success as the organization that provides interview attire for women seeking jobs, Michele had only a small glimpse into the totality of breadth and depth of the organization's work.
"After learning about Dress for Success' impact on women globally, how they help them get back on their feet, regain confidence, and support their families and communities, I knew this would be the perfect opportunity to align my passion with my career goals," Michele says.
Now in her role for just over a year, Michele C. Meyer-Shipp currently leads the implementation of a new, multi-year strategic plan to support the 140+ affiliate network in its growth, aligning the Dress for Success brand with global capacity building, expanded opportunities for corporate partner engagement, and a redefined culture of impact performance and measurement. She has already made a material impact on how the organization positions itself as the front-line, go-to resource to meet the needs of women in a rapidly changing world.
About Dress for Success and Its Services
Dress for Success is the leading global nonprofit employment resource for unemployed and underemployed women. At the forefront of the women's empowerment movement for 26 years, the organization provides no-fee career development, job skills preparedness, mentorship and coaching, financial education, and professional attire.
Due to the impact of the last three years, the need for Dress for Success' programs and services has never been greater. The women Dress for Success serves may experience systematic bias and discrimination, may have been recently incarcerated, may be in recovery from addiction, or may have left a home of violence. Over 60 percent of the women Dress for Success serves identify as People of Color, 50 percent live below the poverty line, and 50 percent are single mothers. Dress for Success welcomes all women, and it recently has experienced increased demand from women who identify as being 60+, transgender, and migrants.
Dress for Success also creates corporate partner engagement initiatives to help companies align their corporate social responsibility (CSR); diversity, equity, and inclusion (DEI); and employee resource group (ERG) initiatives. "Some of my favorite activations are learning workshops for the women we serve, one-on-one mentoring, and apparel warehouse events where team members get a behind-the-scenes glimpse of the work we do at Dress for Success each and every day," Michele says.
Responsibilities as CEO of Dress for Success
As "Chief Everything Officer," Michele is responsible for amplifying the organization's strategic impact and growth. Dress for Success has a rich history and heritage of serving women globally for 26 years. Michele is now looking to the future to ensure that Dress for Success' programs, campaigns, and events are aligned with the present and future needs of its stakeholders. She possesses deep expertise balancing the long-term direction of a global organization with day-to-day tactical opportunities to serve women, the affiliate network, volunteers, and strategic partners. Whether it's meeting with women via on-the-ground workshops, launching programmatic opportunities with affiliates, raising capital for the new strategic plan, or serving as a thought leader in DEI and gender equity at conferences and events, each day is uniquely a rewarding, educational opportunity.
Michele advocates that a positive, supportive, and healthy work culture starts with strong leadership and a commitment to transparency, communication, and accountability. As a leader, she provides creative opportunities for team members to incorporate the organization's values into their own work plans and encourages an open environment to share thoughts, ideas, and feedback. Michele aims to foster an environment where employees feel empowered to do their best work.
Definition of Success
For Michele, the definition of personal success is deeply tied to having a positive, lasting impact on the world, particularly related to principles of inclusion, belonging, and equity. She finds tremendous fulfillment in creating opportunities for others to grow and flourish.
On a personal level, she is very proud of raising three strong young adults – her sons – who all have followed in their mother's footsteps of creating a more just society.
Balancing Personal and Professional Life
Michele's approach to successfully managing her time, energy, and focus is grounded in the following principles:
Relentless prioritization: She prioritizes her commitments and acknowledges that it is impossible to do everything simultaneously. She identifies the most critical tasks and devotes time and energy to those first.
The power of "saying no": Michele taps into her accumulated experiences and instinct to guide her decision-making, deciding which projects to pursue, and which to decline. This approach enables her to focus on the areas where she can make the most significant impact.
Self-awareness and intentional self-care: She acknowledges her tendency to overwork, leading to burnout. Now, intentional self-care is essential to her well-being. She creates space for quiet reflection and intentionally dedicates time to things that bring her deep joy outside of work.
Diligent time management: Time management is crucial to Michele's work-life balance. She takes vacations and breaks – and encourages her team to do the same. She also ensures to have adequately scheduled thinking time during the workweek. This approach enables her to maintain clarity and to focus on her long-term vision.
Michele admits that achievement of these principles is sometimes much easier said than done and that the journey is one of continuous learning. For her, self-awareness, intentionality, and an unrelenting focus on what matters most are mantras that ground her approach to her work each and every day.
Lessons from Michele's Professional Journey
In the early stages of her career, corporate downsizings cost Michele two important jobs. While pivoting and reinventing in one's career can be challenging, for Michele, it taught her how to become resilient and adaptable, qualities that have been crucial to her success.
One piece of advice Michele gives to leaders at all career stages: Get comfortable with being uncomfortable. It is okay – and in many cases valuable – to make multiple career pivots. Learn how to adapt, listen, and readjust. You may be surprised what new opportunities come your way!
The Future of Dress for Success
Under Michele's leadership, in 2022 Dress for Success Worldwide partnered with PwC to conduct a full strategy refresh to position the next exciting chapter in its history. With a focus on suring up its infrastructure and building affiliate capacity, the organization will be well poised to meet the changing demands of its internal and external stakeholders.
The cornerstone of Dress for Success' mission is its ability to provide no-fee services to the women it serves. Whether its career coaching and readiness, upskilling and reskilling, providing networks and community, or styling and providing professional attire, the organization ensures that more women are reached, and that its services provide the pathway to economic self-sufficiency.
"Get comfortable with being uncomfortable. You'll be surprised what new opportunities come your way!"
Message to Aspiring Business Leaders
Michele's advice to aspiring business leaders and women:
Be your brand: Ensure your actions are aligned with your beliefs.
Identify your purpose: Be ready to articulate what you stand for and why. Identifying your purpose will help you stand out from others in your spheres of influence.
Be good at your craft: Adapt a continuous learning attitude. Constantly strive to demonstrate curiosity about your field of work, ask questions, and learn from others above and below you in the organizational hierarchy.
Highlight what makes you unique: Your differences are your strengths. In law school, for example, Michele was the only woman, and the only Black student in class, yet her unique perspective allowed her to bring valuable, different perspectives to the table. Her competitive advantage was her difference.
Advocate for yourself: Ask for the resources you need. Do not wait to be seen at work. Accept stretch assignments. You must become your own best ambassador of your empowerment.
Network, network, network: Join social groups, clubs, and associations. Volunteer with causes that align your personal interests. Raise your hand to speak at events or conferences. It's never too late to beef up your own network!
Michele believes that building a solid personal brand is crucial to succeed in one's career. She encourages individuals to align their passions and goals, embrace their differences, act with integrity, and network intentionally to create meaningful impact in their personal and professional lives.