Dr. Andy Shephard: Harnessing the Transformative Power of Coaching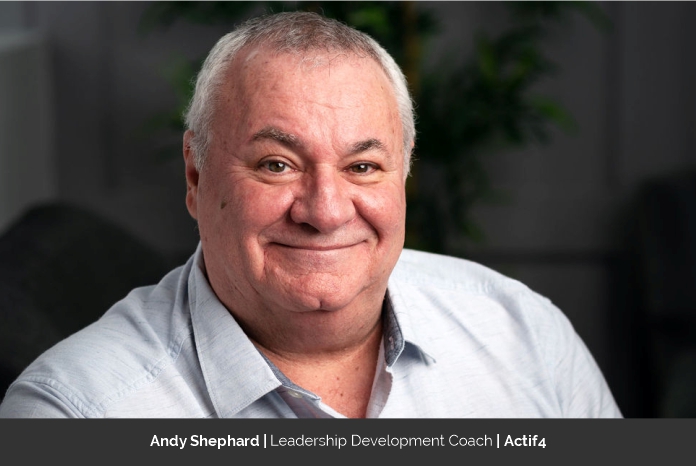 With an unwavering drive and determination, Dr. Andy Shephard consistently seeks opportunities to bring strategic and creative solutions. He has been instrumental in transforming businesses by focusing on the human dynamic, their people. By integrating resilience, innovation, creativity and flexibility, he has empowered teams to achieve success beyond their wildest dreams, pushing them to think outside the box.
Dr. Shephard's extensive business, leadership and executive coaching expertise, can undoubtedly add business value, and enable positive change for any organization. In addition, clients can benefit from his ability to empower leaders to realise their full potential, become their most authentic self, and make a difference through meaningful action.
Some of his key skills include self-awareness, emotional intelligence, open mindedness, active listening and communication, employee motivation, team and relationship building, agility and adaptability, critical thinking, and coaching and mentoring, among others.
Embracing Leadership Coaching: Dr. Shephard's Pursuit of a Meaningful Existence
A pivotal moment in Andy's life occurred when he lost a close friend who had worked tirelessly without realizing his true passion for becoming a semi-professional seniors' circuit golfer. This tragic event served as a wake-up call, prompting him to reevaluate his path and pursue his passion for helping others realize their full potential.
While working in business development, he discovered he was already coaching individuals, teams, and organizations. Then, he decided to embrace the title of leadership and executive coach, dedicating his life to a more meaningful existence and contributing to society.
Coaching in a fast-paced environment allows Andy to guide others toward personal growth and development. It enables him to learn from those he coaches and expand his expertise. By stepping into his role as a leadership coach, Andy unlocked his true passion, making coaching the most unselfish and simultaneously selfish pursuit he has ever embarked upon.
Empowering Authentic Leadership: Dr. Shephard's Greatest Accomplishment
Andy's crowning achievement as a leadership coach occurred in Equatorial Guinea, West Africa. He utilized coaching to transform a leadership intern into a highly effective and influential senior leader. This individual went on to manage a team of 60 employees across three organizations. Over several years, Andy and the aspiring leader collaboratively developed a coaching plan that ultimately turned the individual's dream of becoming a senior leader into reality.
Through coaching, Andy's creativity enabled emerging leaders to find their unique leadership voices and recognize their inherent power. By fostering "lightbulb moments," he guided the individual toward realizing their full potential, embracing their authentic self, and making a meaningful impact through purposeful action.
Success is More Than a Destination: Dr. Shephard's Philosophy
Andy believes success is a personal and relative concept, aligning with Maya Angelou's definition: "Success is liking yourself, liking what you do, and liking how you do it." He believes each individual should determine their definition of success and create a development path tailored to their unique circumstances.
According to him, it's essential to consider success as a range of meaningful experiences and outcomes. When embarking on the journey toward success, it's common to feel overwhelmed, especially at the beginning. However, he advises taking things one step at a time and focusing on what's most important. As individuals learn more about themselves and their perception of success, he encourages them to be courageous enough to evolve their initial understanding.
Ultimately, Andy emphasizes that however one defines success, it should hold personal significance and value.
A Passion for Developing People: Dr. Shephard's Transition to Leadership Development
Before joining Actif4, Dr. Shephard had already established himself as a successful business leader, boasting over 25 years of experience in technology leadership roles across diverse industries such as healthcare, financial services, business consulting, pharmaceuticals, and oil and gas. His career transitioned into a business development role, which helped him discover his passion for developing people and empowering them to focus on their goals.
Throughout his career, he has had the unique opportunity to live and work in five different countries, interacting with individuals from over 40 nationalities. This experience has honed his ability to thrive in complex multicultural environments. In addition, having held leadership roles, he understands today's leaders' pressures and challenges and has navigated the same obstacles they encounter.
These experiences fuel Andy's passion for leadership development as he works to enhance leadership resilience, self-awareness, and the desire to effect change. By partnering with individuals, teams, and businesses, he aims to help them flourish and reach their full potential.
Embracing Persistence, Dedication, and Belief: Dr. Shephard's Guide to Overcoming Obstacles
Embracing challenges as opportunities rather than problems is a crucial tenet of Andy's personal and professional growth philosophy. He uses the analogy of an oyster transforming an irritating grain of sand into a beautiful pearl to emphasize the importance of facing challenges with a growth mindset.
Challenges, according to Andy, provide an excellent platform for growth. They put one's resolve and commitment to the test, helping individuals develop emotional and mental strength and resilience. Furthermore, challenges stimulate creativity, as people are often forced to devise innovative solutions to overcome obstacles. As Tim Notke, a high school basketball coach, wisely said, "Hard work beats talent when talent doesn't work hard." Some of the best ideas are born within the crucible of adversity.
Andy's experiences participating in grueling 250 km multi-stage marathons across the world's central deserts have taught him invaluable lessons about overcoming challenges. He emphasizes that to achieve unparalleled success, one must be willing to do what others are not. Embracing persistence, dedication, stamina, belief, focus, and purpose is crucial to achieving one's goals.
Setting high targets, even those that seem impossible, is essential to Andy's approach to success. According to him, if one's dreams do not evoke a sense of fear, they are not ambitious enough. By daring to dream big and working diligently to overcome obstacles, individuals can unlock their true potential and achieve greatness.
From Vulnerability to Empowerment: Developing Resilient Leaders
At the heart of Dr. Shephard's contributions to leadership development is Actif4's program, designed to foster progression, growth, and practical application. By providing valuable insights, the program has the power to transform leadership potential and drive organizational success. John Quincy Adams once said, "If your actions inspire others to dream more, learn more, do more, and become more, you are a leader."
The Actif4 program assists leaders in better understanding themselves and others, enabling them to cultivate meaningful business relationships and become more effective in their roles. Adopting the qualities of leaders, they admire can create a positive and lasting impact on those around them. The program cultivates essential attributes such as flexibility, resilience, and creative thinking, equipping leaders to bounce back from setbacks and thrive in their roles.
Additionally, the Actif4 program guides leaders to recognize their unique strengths and harness them effectively to address areas that require improvement. This approach enables leaders to transition from vulnerability to empowerment by fostering resilience and promoting a growth mindset. By doing so, they can continually evolve and adapt to today's ever-changing business landscape.
Prioritizing Client Needs: How Actif4 Stays Ahead of the Game?
Andy emphasizes that while Actif4 may not have traditional core values, the company is united by a shared understanding centered around four fundamental principles:
● Ambition – Actif4 is committed to working closely with clients and pushing themselves to achieve remarkable outcomes together.
● Activity – The company brings concepts to life in a way that allows individuals to quickly and effectively apply them in their everyday lives.
● Authenticity – Actif4 focuses on conducting themselves with integrity and helping people take charge in their leadership roles.
● Audacity – The company maintains a steadfast belief that with the right mindset, anything is possible.
To stay ahead in a competitive industry, Actif4 addresses the emerging challenges leaders face in today's rapidly evolving world. While they acknowledge their competition, the company's primary concern lies in understanding their clients' context and providing valuable assistance in overcoming these challenges. By doing so, they continually remind clients of the enduring truth that leaders are meant to rise to any occasion.
The Benefits of Introspection: How Dr. Shephard Hopes to Influence a Positive Change?
Andy believes that fostering enhanced self-awareness is a crucial change he wishes to influence in the current generation. By coaching individuals to understand themselves better, evaluate their actions, thoughts, and emotions, and comprehend how others perceive them, he aims to impact how people interact with one another significantly.
Numerous studies have demonstrated that introspection can help clarify one's values, thoughts, feelings, behaviors, strengths, and weaknesses. It also allows individuals to recognize the effect they have on others. Those with a heightened self-awareness tend to be happier and maintain better relationships. Additionally, they often experience a greater sense of personal and social control and increased job satisfaction. By looking outward, individuals can better understand how others perceive them.
In Andy's view, individuals who understand how others perceive them are likelier to exhibit empathy toward those with differing perspectives. In addition, leaders who possess an accurate self-perception that aligns with others' perceptions are more inclined to empower, include, and acknowledge their peers.
Self-awareness offers numerous advantages; it enables individuals to influence outcomes, improve decision-making, and communicate clearly and intentionally. Furthermore, it allows for understanding multiple perspectives while, most importantly, liberating individuals from their assumptions and biases.
Running a Business and Making a Positive Difference: Dr. Shephard's Daily Routine
Andy's work encompasses collaborations with organizations and individuals, resulting in diverse daily activities. For example, his schedule might include spending a few hours with an individual, team, or executive, then coaching private clients through video conference platforms such as Zoom, Teams, or Skype. He also spends significant time planning and developing single or multi-day workshops as a facilitator.
In addition to his coaching responsibilities, he runs his own business, which requires him to utilize his business skills for tasks such as lead generation and marketing. Despite the demands of his multifaceted role, he feels privileged to work as a leadership coach, as it allows him to make a positive difference in people's lives – an enriching experience.
Andy confidently states he is an optimist when asked to describe himself in a single word.
Achieving Balance and Motivation: How Dr. Shephard Recharges and Refocuses?
Striking a balance between his personal and professional life, Andy finds solace in long walks through the countryside or along the beach whenever possible. These outdoor excursions allow him to relax, contemplate his thoughts, and enjoy the rejuvenating effects of fresh air, sunshine, and the sound of the ocean. This time spent in nature refreshes him, clears his mind, and fosters a positive mindset.
Moreover, he emphasizes the importance of cultivating an attitude of gratitude. He believes practicing gratitude increases happiness, positivity, and compassion towards oneself and others.
In addition to practicing gratitude, Andy believes that focusing on the aspects of life he cherishes most revitalizes him. Therefore, he cultivates healthy habits of expressing appreciation for the people and things that matter most, including his family, his wife Julie, and his friends.
Furthermore, his adventurous spirit leads him to explore the world, having visited thirty-four countries and counting. Andy also enjoys physically challenging himself, participating in multi-stage, self-sufficient ultra-marathons, showcasing his unwavering dedication and drive in his personal and professional life.
Dr. Shephard's Goals as a Leadership Coach: Empowering Leaders to Shape Their Futures
As a renowned leadership coach, Dr Shephard's primary goal is to unleash the transformative power of coaching, empowering leaders to shape their futures. He provides them with the necessary tools to unlock their leadership potential and make a lasting impact. By offering a private, confidential space for leaders to discuss their challenges and share innovative ideas, he assists them in identifying their unique strengths and achieving their objectives. He focuses on delivering significant business value by enhancing their leadership resilience, self-awareness, and drive to bring about change, enabling them to reach their full potential as leaders.
Andy's ultimate objective is to assist leaders in realizing their potential and facilitating effective leadership transitions. He relishes creating an environment where self-belief and achieving dreams become a reality. This process involves continuous learning and improvement, allowing Andy to become the best version of himself as a leadership coach. He holds a steadfast belief in the life-changing power of coaching.
To aspiring leaders, he offers an inspirational quote from Orrin Woodward: "Average leaders raise the bar on themselves; good leaders raise the bar for others; great leaders inspire others to raise their bar." This sentiment encapsulates Andy's message, encouraging leaders to elevate their standards and inspire others to do the same.
Conclusion
In conclusion, Dr. Andy Shephard's unique blend of experience, dedication, and passion for leadership coaching sets him apart as an influential figure in the business. Through his innovative approach, he has significantly impacted countless lives by empowering individuals and organizations to unlock their full potential.
Andy's coaching method emphasizes the importance of self-awareness and introspection, enabling leaders to understand better their strengths and weaknesses and how others perceive them. By fostering this level of self-awareness, he helps them develop stronger relationships, make better decisions, and become more effective communicators.
His ability to maintain a healthy balance between his personal and professional life is a testament to his commitment to self-improvement and well-being. By practicing gratitude and spending time outdoors, Andy remains motivated and energized, allowing him to offer his clients the highest quality of service.
In addition to his work with Actif4, he dedicates his time to coaching individuals and organizations, developing workshops, and running his own business. His hands-on approach ensures that he remains at the forefront of leadership coaching, constantly learning and evolving to serve his clients better.
His personal goals as a leadership coach revolve around harnessing the transformational power of coaching to empower others. He aims to give leaders the tools to make a lasting impact and create meaningful change in their organizations. By doing so, he contributes to the growth and success of the individuals he works with and the businesses they lead.
Andy's message to aspiring leaders is one of inspiration and encouragement. He firmly believes in the power of coaching to change lives, and he challenges future leaders to raise their bar by embracing self-awareness, introspection, and personal growth.
In a world where robust and effective leadership is more crucial than ever, Dr. Shephard's dedication to developing and nurturing the leaders of tomorrow is truly commendable. His unwavering passion and commitment to his craft contribute to his client's success and inspire those who aspire to lead with purpose, empathy, and vision.