Lesa Evans: A Courageous HR Leader With a Passion for Putting People First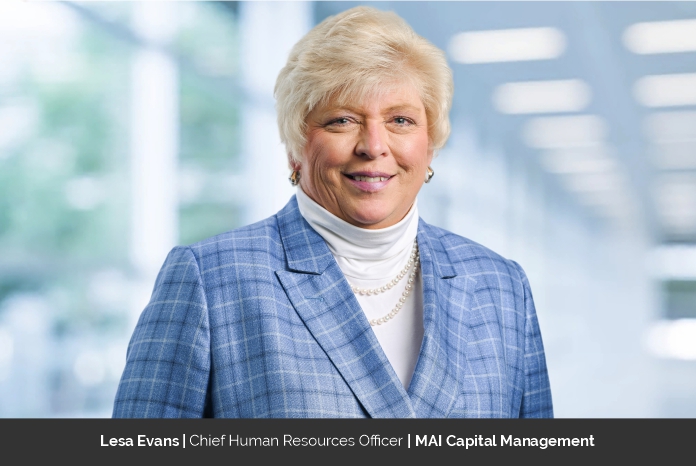 Lesa Evans, Chief Human Resources Officer at MAI Capital Management credits her career success with having the courage to say yes to the unknown.
Having joined MAI as the CHRO in 2019, she's responsible for all elements of Human Resources, including strategy and operational execution in collaboration with the executive team.
"I have known Lesa for years, so I knew she would be a great fit at MAI," said Rick Buoncore, Managing Partner at MAI Capital. "Her credibility, enthusiasm, and genuine care for people makes her a perfect partner, because at MAI, we place people first. Lesa's strategies and practices help us expand our business while holding true to our core values."
Before joining MAI, Lesa was the Chief Administrative Officer for a large organization's corporate and investment banking departments, and the HR Director for 2,500 colleagues in corporate banking, risk management, and asset management.
Lesa has several industry qualifications, including the 360° Feedback System, Lominger Career Architect, and Myers Briggs, and a background in succession planning, people management, recruiting, onboarding, employee development, training, culture leadership, and compensation structures.
"Lesa can approach any facet of the business, be effective, and add value. She's compassionate and a jack-of-all-trades, which is an unstoppable combination," says Jim Kacic, President of M&A and Shared Services at MAI.
Discovering a deep passion for human resources
Lesa recalls being an extrovert looking for like-minded people at the beginning of her career. She started in HR training and loved the classroom experience and the constant interaction with other people with inquisitive minds who were interested in the industry.
From there, she describes her path as "more of a lattice than a ladder," and spent time in most areas of HR through the years, slowly building her personal strategies for success by observing practices that she liked and disliked, adopting principles that existed, and creating a few of her own.
"Saying yes to sales training without knowing what it was, or how I would be able to add value, kicked off my career – and deep passion – for working in human resources. Continuing to say yes to the unknown is how I ended up where I am today, leading MAI Capital Management as the CHRO," Lesa explains.
Financial doctors committed to their client's financial well-being.
MAI Capital Management is a national, comprehensive wealth management firm that's committed to empowering clients to simplify, protect, and help grow their wealth – freeing up their time to enjoy it. Its advisors view themselves as financial doctors – their jobs are to ease their clients' minds by protecting their financial well-being and helping them achieve their goals.
MAI Capital Management is driven by a fiduciary duty to always act in its client's best interests and has developed white-glove solutions to serve the breadth of their needs, using its talents, connections, and opportunities to solve problems. As a full-service wealth management firm, it focuses firmly on its clients, adjusting and expanding its offerings as the clients' needs grow.
With more than 250 advisors and staff, MAI provides financial and estate planning, investment management, tax planning and preparation, insurance and risk management, accounting and bill pay, and philanthropy advice, as well as boutique services like family office, or specialized solutions to people in the sports and entertainment industries.
In a large industry that contains many advisors, MAI takes great pride in knowing that what they do is special. For example, their clients range from millionaires to billionaires; and because of the breadth of their clientele portfolios, the firm can offer a large variety of investment opportunities and other financial services to them all.
The organization views its services as so different, so client-focused, and so customizable, that it is difficult to list direct competitors. While they keep an eye on what other firms are doing, they also look internally to see where and how they can make changes, improve, and develop strategies to better serve their clients.
The vision of MAI Capital Management is to be the number one wealth management firm in the nation, focusing on continuously expanding its geographic presence, product base, and financial services to complete its array of solutions so that it can exceed all client expectations. When potential clients look for a wealth management firm, its goal is to be their first choice.
A belief in integrity and putting people first.
Lesa observes that in her career, and especially at MAI capital, she has redefined the value proposition of what HR means to a business. She notes that HR professionals are in the business strategy of people – who they are, how to motivate them, and how they fit into a culture.
"At MAI, with business leaders like our Managing Partner, Rick Buoncore, and our President, Jim Kacic, my job is a true joy," Lesa declares. "Rick and Jim believe that people are the path to success; that building relationships and taking care of each other is an absolute necessity in our business. When you work somewhere and for someone who puts people first, it is an HR professional's dream come true."
Lesa shares that in prior experiences, her biggest roadblocks were leaders who saw HR as a department that manages things, like payroll and benefits. She observes that they didn't have the understanding that Rick and Jim have – that to build a successful business, you have to hire people who share your values, acquire companies that have similar cultures, and work hard to inspire those people to believe in your vision.
"Our company's culture starts at the top, with Rick's belief in taking care of clients, taking care of each other, and taking care of the community. He has created a place where we're inspired to serve our clients, build meaningful relationships, and uphold the highest standards of ethics and values. By making integrity an integral part of MAI, we can build a portfolio of clients and employees who align with our vision and trust us to innovate and find new ways to exceed expectations," Lesa states.
She also notes that modern technology has commoditized certain aspects of the human resources industry, automating things in a self-service way for employees. With the change in the delivery of core services, leaders in HR can now focus on advising in overall business strategies rather than simply providing specific services.
"I can honestly say the best recognition I receive is when my team advances and reaches new career milestones. If my team, our employees, at MAI are achieving their personal and professional goals, then I'm doing my job to the best of my ability," Lesa maintains. "With my team, we stay motivated by focusing on a goal, celebrating our successes, demonstrating a continuous improvement mindset, and creating work that matters."
Challenges build experience, fortitude & resilience.
Lesa believes that accepting that it is okay to fail is the path to success. Without a delicate balance between wins and losses, you never learn how to pivot in difficult situations. Some of the highest peaks of her career have come at times of uncertainty, going into the unknown and finding a way to accomplish goals in the face of seemingly insurmountable odds.
"I truly believe it is okay to fail because with failure comes experience, new lessons, and the ability to continue to move forward in your decision-making process. A balance of successes and failures coupled with active learning and strong problem-solving skills create more wins and new, innovative ways of thinking, and can lead to the biggest successes in life," Lesa affirms.
She reiterates her point by sharing a quote from the great Winston Churchill, who said, "Success is not final, failure is not fatal: it is the courage to continue that counts."
Lesa insists that facing challenges, at any time in life, builds fortitude and resilience. She observes that while HR professionals often face daunting situations, now is a particularly challenging time for the industry as it navigates the waters of having five generations in the workforce.
"Balancing the varied forms of communication and approaches to work with personality types can feel like threading a needle – with both eyes closed. But, when you do find that balance, that solution that brings those generations to a place of common ground, you know that every challenging moment was worth it," she says.
"Success is not final, failure is not fatal: it is the courage to continue that counts." – Winston Churchill

Leading with courage and passion to create lightning in a bottle.
Describing herself as courageous, Lesa notes that she has no regular days at work, and that's the fun of it. As the CHRO, people define her day, and people are not predictable. She places her responsibilities into 'buckets' – consulting with leadership, coaching and advice, building and deploying the HR strategy, M&A, and more. "At the end of the day, my responsibilities answer the question, 'How can I help?'," she explains.
Lesa admits that she stopped searching for balance years ago because it implies that our lives have a scale – and one side will always lose. To decrease the stress of failing at balancing things equally, she ascribes to the idea of work-life integration. Basing her decisions and time management on that model, she can manage her expectations, her family's expectations, and her colleagues' expectations.
"One day, I may have to leave the office early to make it to my daughter's band performance (and I may run in at the last possible minute and rush in the seat my husband saved, but I made it!). The next day, I may miss family time because I have work commitments. But through it all, I weigh the scales; I check the balances; and I have the courage to draw boundaries where they are needed," she observes.
Lesa's personal goals are to never stop learning, listening, and reimagining the way she does her job. "And for as long as I continue to work, I want to always keep people at the forefront of the decisions I make while strategizing the best ways that they can help our business achieve and succeed," she insists.
In her parting words of wisdom to aspiring HR professionals, Lesa recommends that they should learn the disciplines of HR, starting with the basics. "Continue to be the best HR geek you can be and then learn the business you serve from the inside out. By gaining that knowledge, you can start to weave people into the overall business strategy, adding value outside of your department with a holistic approach," she advises.
In conclusion, Lesa declares that she's honoured to work for leaders who value strategic HR, and when their passion ignites the design and launch of HR strategies, it's lightning in a bottle! "We have full trust in each other, from overall business plans to mergers and acquisitions, and everything in between – they know and believe that people impact our firm and our levels of success. HR works at MAI because the leaders here continuously invest and believe in its intrinsic value," she maintains.