Trailblazer Spearheading Disruptive Platform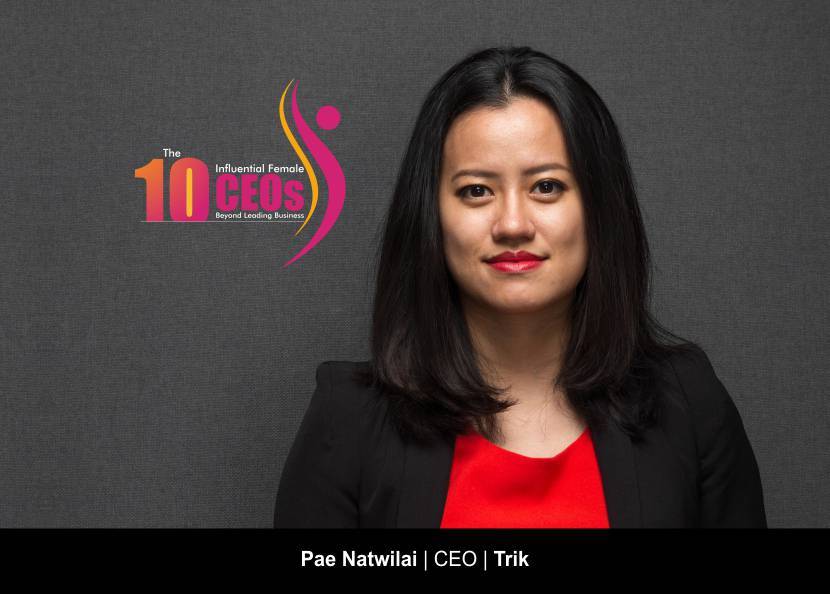 She is a creative design engineer with multidisciplinary expertise, including hardware and software. She has a master degree in Global Innovation Design from Royal college of Art & Imperial College London and a bachelor degree in Mechanical Engineering from Chulalongkorn University. She used to work as a Project manager leading a design and engineering team at an international oil and gas company, PTTEP and is currently the CEO of a technology start-up, Trik Ltd. With cultural diversity in mind, she aims to utilize the right technologies to create an outstanding user experience that is an answer to business' and their customers' need. She is Pae Natwilai and this is her journey!
Being an entrepreneur was not on the list
When Pae was young, she didn't have one single goal, as she excelled in varied fields, be it sports, math or computer programming. As she grew up she wasn't sure of her career path and being an entrepreneur was not even the last option on her list. Even though she hailed from an entrepreneurial family with her father and relatives being entrepreneurs in not only technology but diverse fields, Pae knew for sure that she did not want to be one. She grew up witnessing the hardships of running a company. "You can't simply take a holiday and forget about everything like when you work for someone else. Not to mention, the massive responsibility of so many employees depending on you to make sure the company survives. And, the ridiculous amount of paperwork which I never wanted to do. So, unlike many of my entrepreneur friends, when I finally decided to start my own company, I knew exactly what I had signed up for," shares Pae.
The biggest challenge for Pae in starting a company and leading the team was to believe that she could do it. She was not confident about her idea and there were numerous things in the business that Pae was apprehensive about. It took her months with many great mentors to learn how to lead a team while she was still figuring things out herself. One of her most important achievements is when she won the Women in Innovation Awards, from InnovateUK. This award not only came with amazing PR but also came with cash reward. "This act was the first investments to properly kick start my company. Since then, I have been collecting many more grants, awards and recognitions across multiple fields from design, engineering, innovation, to business. I was selected as one of the Forbes 30 under 30, Europe in 2018, and most recently, I just won the Software engineer of the year from everyWomen. Not only that, last year alone, I won grants and awards totaling up to 600K GBP," Pae adds.
Being driven at all times is hard work
Pae has always had an imposter syndrome. In spite of all the awards on the shelf, she always thinks she is not that good enough and one day people will find out. Hence, one of her biggest goals was to be recognized by general media or news. It was already a challenge to be recognized in her field of work. "But, what would make me feel like 'I made it!' is when other people outside my field recognize me and also understand the impact of my work. I still remember when I was approached by the BBC news to be on their Business Live morning news. It was a live TV interview that was aired globally. It felt a bit unreal to walk into the newsroom, and it still feels a bit unreal even now. It was an amazing interview and at that moment I knew my hard work eventually paid off," Pae further shares.
Pae believes seeing her vision come to life is a long road with lots of ups and downs. Being driven at all times is difficult and requires hard work. What keeps her driven on a day-to-day level is always looking forward to discover the next 'first', doesn't matter if it is good or bad. She once listened to a speech by an amazing entrepreneur where he literally celebrated every first problem he encountered in the company – even when they got their first lawsuit. This made Pae appreciate every new thing she encountered and aim to do something different and dream bigger.
Developing an essential tool for drone inspection
Pae used to work for an Oil and Gas company, where her job was to conduct inspections and take care of the maintenance. Most of the time, she wasted a lot of money just to figure out what needed fixing. Manual inspection could take weeks or months and costing thousands of pounds, as well as risking workers' health and safety. Instead of manual inspection, a drone can photograph, at a fraction of the cost. This could help, not only the oil and gas industry but also many other sectors. This led Pae to start a new venture on her own and supply a solution for inspection and asset management in general. Her company, Trik has become an essential tool for drone inspection as it helps generate a digital twin of the structure. Instead of looking at thousands of similar pictures of windows from drones while conducting a building inspection, Trik automatically turns these photos into a digital 3D model and maps all pictures to its exact locations in the building. Users have an interactive digital twin of their structure which can easily be annotated, measured and used to communicate between teams.
Not only that, Trik's 3D model also acts as a file directory, making it easy to store, record and compare changes in 3D model. This has become an ideal tool for asset managers who want to track progress in 3D and need an easy way to communicate with multiple stakeholders that might not be on site. Pae has also been working on an AI system to help project manager predict potential problems and forecast trend from historic data. Trik is known for its unique ability to set up an easy to use system that anyone can use. This is why many large enterprises have approached Trik to help set up their time-lapse 3D database and train an AI system for their companies.
Exciting times ahead!
When asked about the balance between her professional and personal life, Pae answers, "I'm not even sure that I'm balancing my life well yet. Though now, I could say, I'm much better than when I first started. I remember I used to work almost every day (and night) to the point that I hadn't seen anyone outside of work for months. I think hiring people that have a good work life balance in your team does help a lot. I started showing up and going home at a more normal hour. Now, I try to leave my computer charger at work so that I don't take work home with me. Most importantly, I put a couple of personal goals side by side to the company's one, and I make sure to schedule them into my calendar – like a business meeting. I set a goal to meet at least 2 of my friends every month, and make sure I have one day a week to myself to do some activity."
Pae believes what Trik will change the way people work and help bridge the gap between people who are tech savvy and those who are not. She wants to see her vision come to life at a global level. As for her personal plan, Pae wants to place herself where it is the most beneficial to the company. Right now, she has taken on as the CEO of Trik Ltd; however, she is also inclined towards her passion of product and technology. She loves turning cutting edge technology into a system that any non-technical person can just pick up and use. She may move on to do other roles in the company, if she finds someone who can run the company better than her, or stay in the CEO position long term. She is not sure yet, but she is excited to see how the team grows.
From an amateur risk taker to a confident entrepreneur, the enthralling expedition of Pae Natwilai has been remarkable, who hesitantly took the plunge that led her to a successful venture beyond words.